Finally! A medical skincare brand designed just for cancer patients and survivors.
Our doctor-developed, safe-ingredient skincare and hair loss products are formulated specifically for people with extra sensitive skin and immune systems.


NO fragrance, parabens, PABA, propylene glycol, phthalates, sodium lauryl sulfate, formaldehyde, artificial dyes or endocrine disruptors
FDA-approved, medical-grade skincare formulas based on peer-reviewed data and real-world evidence at renowned cancer research hospitals
Over-the-counter and prescription-strength formulas
Available on Amazon Prime or through this website
Do you have any of these conditions below? Click and let us help you.
We offer easy to use, value sized, safe, clean over the counter products. For more severe issues we offer telemedicine visits with our Doctors or we can coordinate with your Doctor to obtain a prescription.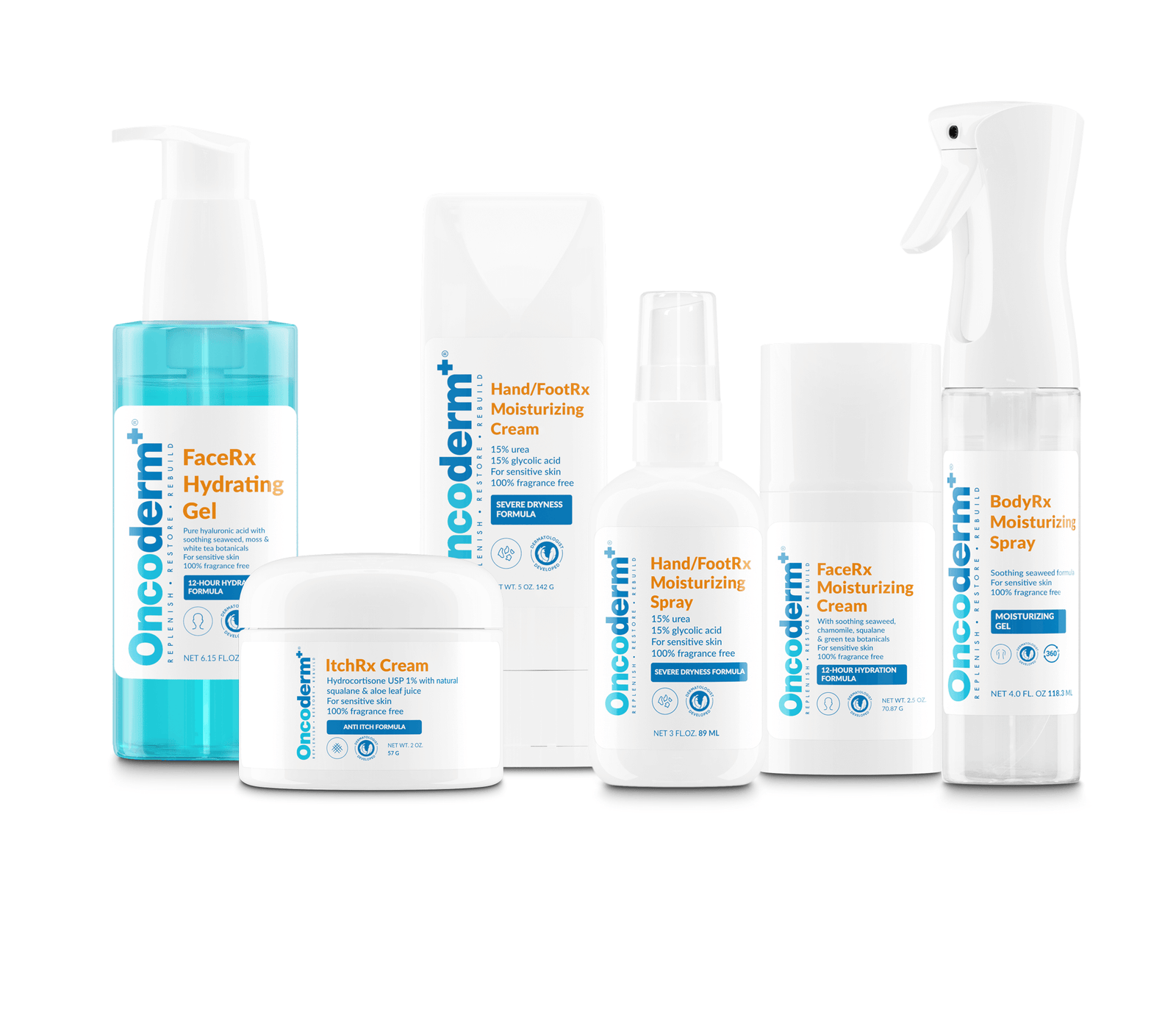 What is Oncoderm?
Click the video below to learn how our products help cancer patients and survivors to look and feel their best during and after oncology treatments.
Renew my skin
Moisturize and restore your body's natural protective barrier.
Prescription-Strength Solutions
01
Select your condition.
Choose a product and share your symptoms on our online questionnaire.
02
Consult with our medical team.
Discuss treatment options with specialized practitioners to determine your best fit.
03
Receive your medication.
Get prescriptions and any over-the-counter meds delivered directly to your door.
Medical Advisory Board
Our dedicated team of doctors, pharmacists, and care specialists are here to support you along the way.
Patient Testimonials
Anna P.

New York
Chemo dries my skin out so much that it flakes and gets unbearably itchy. This FaceRx Moisturizing cream is the most soothing texture, and my skin absorbs it without feeling greasy or shiny.
Julie B

New York
I feel much better after using this cream. I feel like I am treating myself because I know the ingredients are safe and really good for my skin.
What's the difference between Oncoderm's compounded medication and a prescription I can pick up at any pharmacy?
Mass-produced medication, while good for some, isn't ideal for everyone. People undergoing cancer treatment typically have more sensitive immune systems, skin, hair, and nails than the general population.